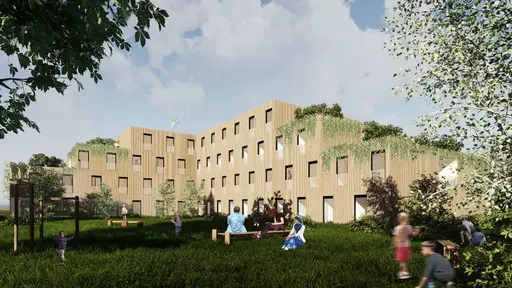 dec '21
500 flexible homes in Nijmegen
By consortium De Meeuw Nezzt, WoodStock Real Estate and DoepelStrijkers Architecten.
On Friday 17 December, the municipality of Nijmegen and four Nijmegen housing associations put their signature under 'NDW21'. A major step towards the realization of 500 temporary De Meeuw Nezzt homes in the 'Winkelsteeg' area development. This concerns sustainable and modular homes, which are desperately needed to cope with the current housing crisis. The houses are expected to be put into use in 2022 and 2023.
The tender of the Municipality of Nijmegen for 500 homes was won in November by the consortium of De Meeuw Nezzt, Woodstock Real Estate and Doepel Strijkers architects.

The consortium was chosen because, in the opinion of the housing associations, this housing product offers the best price-quality ratio. In addition, the submission meets the wishes regarding action plan, open budget, multi-year maintenance budget and information about the homes. The corporations are not only convinced of the quality of the homes and residential buildings of De Meeuw Nezzt, but also of the expertise of the project team. They also expect good cooperation between the municipality, the housing associations and the consortium. The corporations have therefore decided to award the entire contract for 500 homes.