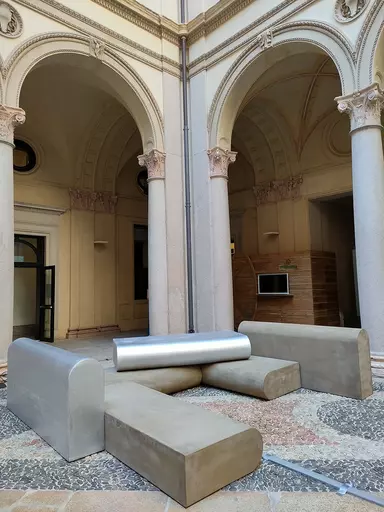 sep '21
Doepel Strijkers architects presents 'Landscape' at Masterly Salone del Mobile in Milan
Doepel Strijkers architects has designed a flexible modular seating object called 'Landscape', using Cooloo's material and production processes. The starting point of the design is the large recycled foam blocks as produced by the manufacturer. Landscape is based on the premise of creating a design with minimal machining, cutting and waste material.
The objects are designed based on the intrinsic properties of the materials. The foam elements are lightweight and soft. In its simplest form, a single element can be used for sitting. In combination with one or two additional elements, multiple configurations are possible, resulting in a range of spatially intriguing compositions for sitting, lounging and laying. Every object is identical, but the layouts that can be made with this object are endless.

With minimal cutting and waste material, a simple linear element is created. This soft foam element is rounded along one edge and is strategically placed with magnets before being covered with ecological coatings from a variety of waste streams. A Landscape finished with recycled leather, copper, concrete or even recycled tennis balls in fluorescent pink is possible.